My last post generated a bit of interest and I was asked to do a "KM 101" for a consulting company that develops customized performance management solutions. Speaking with a few of their folks before the presentation I was made aware of the kinds of systems they develop, which have included learning management systems, systems that help sales reps manage time-sensitive inventory and so on. So I knew it would be important to differentiate, delineate knowledge management from related applications and systems.
One of the things I do in my KM presentations is review the history of knowledge management, using the "3 eras" chart I developed and then seguing into a version of Nancy Dixon's model the aligns so nicely with the eras.

I've used these frequently. What I also wanted to do was to position the "dawn of KM" with respect to what I called it's cohort: related business disciplines that emerged around the same time (roughly 1992 - 1995):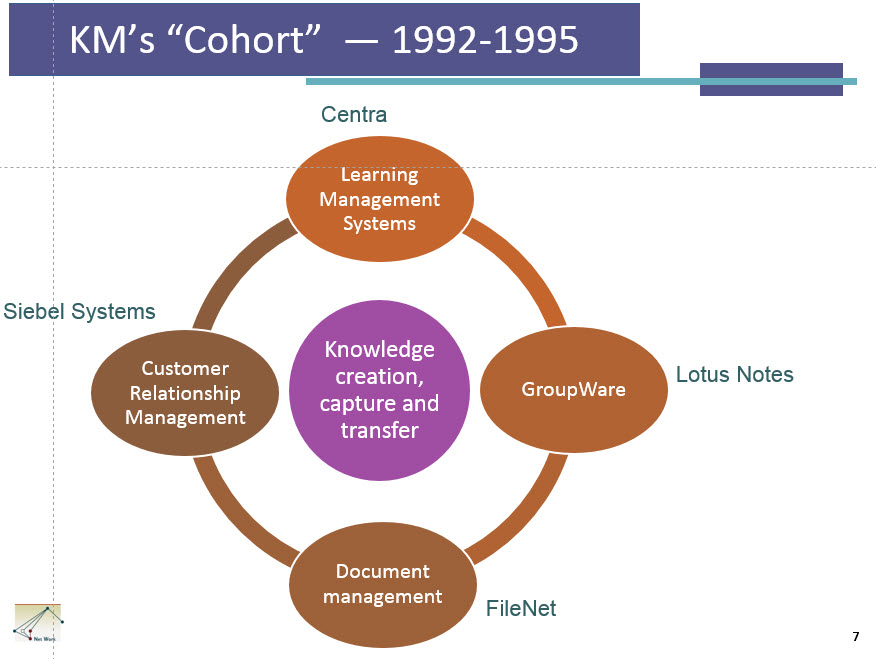 With respect to document management, I also shared one of my favorite KM factoids and that is that the trade magazine Imaging World, founded in 1991 for the document/ image/ management/workflow industry, changed its name to KMWorld in 1997.
In many implementations of knowledge management it is easy to see elements of each of these component cohorts as KM has easily blended with and adapted methods, practices, and tools from each of these business applications as they (and KM) matured. While knowledge management has easily been partnered with organizational learning, collaboration, and document management, CRM remains slightly distinct as these systems seem to be so heavily transactional and data-oriented.
Moreover, KM (because of behemoths like SharePoint and Jive) has subsumed (or is subsumed by — take your pick) document management and collaboration, it is the relationship and boundaries between KM and organizational learning that continues to spark conversations. A recent post by Ruth Kustoff highlights, once again, the alignment and focus needed to increase employee productivity.