The past few months I have been working on a few different projects for nonprofits, initially focused on network mapping or the development of a NetWorkShop, but slowly morphing into (or taking sideroads down) knowledge management. Fortunately I have a good bookshelf and a good network, and a long history of my own. A surprising number of elements came together in both cases, and I quite happily brought some lessons from the (mostly) corporate KM world into some nonprofit work.
Especially pleasing was to see an alignment between Harold Jarche's networked learning model (recently updated and republished in his recentblog post) and the three types of social change networks from Net Gains by Madeleine Taylor and Peter Plastrik. Harold's model is focused on learning and personal knowledge mastery and acknowledges that we live in multiple networks and that these networks have different structures: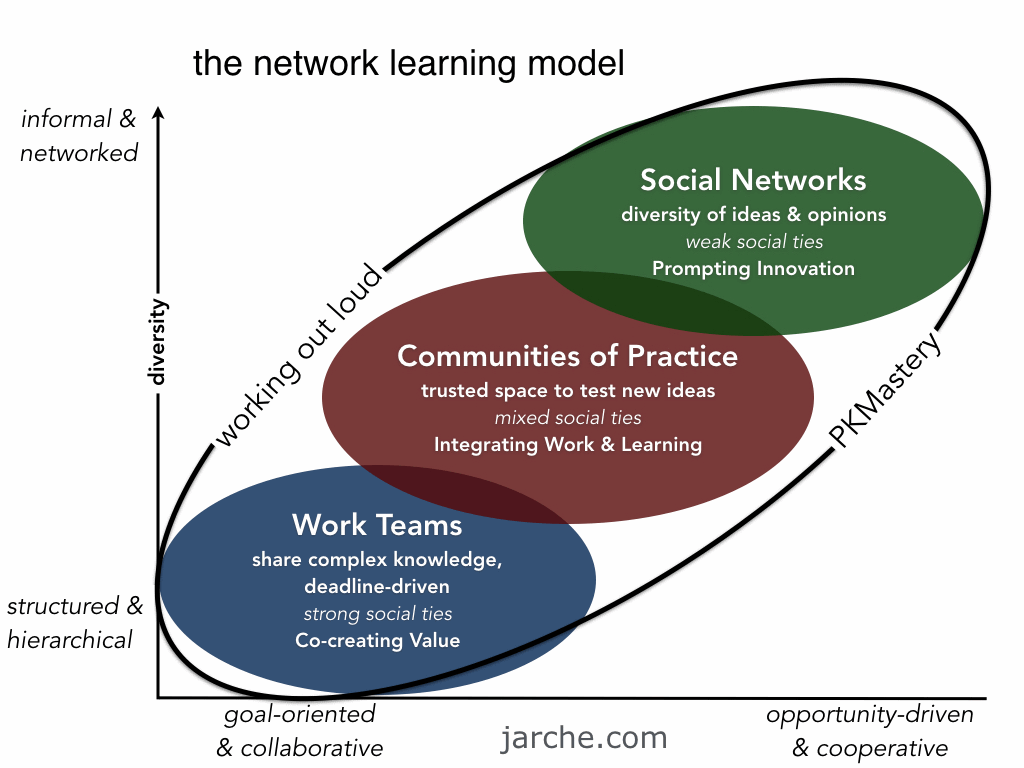 Our loose-knit social networks offer us a fairly large number of informal, or weak, ties.
Within our communities of practice, we develop some strong ties, so the network becomes a more trusted space
To really get work done, our ties need to be strongest and we may need some formal structure
One version of this graphic shows little network maps illustrating whether the ties between nodes are strong or weak. Having seen this in the past, I found it this time while I was researching working out loud. What really worked for me was, obviously, the way that Harold has so neatly integrated the network foundation into the model.
Because I've been in the nonprofit space and the immediate client need was to introduce network concepts and network thinking, I immediately saw the connection to the Taylor/Plastrik model's differentiation of network types as connectivity, alignment, and production. Now, the purpose of this model is to provide insight for people who are creating, building networks so the intent of the model is a bit different. (I've also included the key tasks for a network builder in each type of network.)
| | | | |
| --- | --- | --- | --- |
| | Connectivity Network | Alignment Network | Production Network |
| Definition | Connects people to allow easy flow of and access to information and transactions | Aligns people to develop and spread an identity and collective value proposition | Fosters joint action for specialized outcomes by aligned people. |
| Key task of network builder | Weaving — Helping people make connections, increase ease of sharing information | Facilitating — helping people to explore potential shared identity and value propositions | Coordinating — helping people plan and implement collaborative action |
So you see that it did not take a great leap to see the similarities in these. Our social networks are all about connectivity and access to ideas; we align ourselves in communities of practice with those people who have common interests and who want to share more formally; and, when it comes time to set goals and get some work done, we need more structure and people to coordinate the work.
I love the congruence in seeing these models come together; I wouldn't try too hard to make them agree in all aspects. What I like is that they both use sound principles from our knowledge about how networks work, the underlying principles of network structure, to inform action about using networks to enhance knowledge.
(Net Gains was written in 2006. Last year, Pete and Madeleine collaborated with third author, John Cleveland, to update and expand that into Connecting to Change the World.)