I've had the good fortune over the past two years to see my work shift into the nonprofit space. I miss some of my corporate clients, but it has been both a rewarding and a good learning experience to participate in this other world. I'm getting ready to do a webinar [link updated 4/2 to take you to the full replay] on the 14th of January for the Leadership Learning Community. It's titled Network Analysis (SNA/ONA) Methods for Assessment & Measurement. It's the result of some thinking and working with June Holley and Claire Reinelt on the various things I've seen in the nonprofit world. June and Claire will also be sharing case studies on the webinar.
Part of what's been interesting over the past years (as I was working on Net Work and thereafter) is the pick-up of interest in all things networks and nonprofits. I use this graphic in my workshops as a way to get people to talk about what they have (or might) read: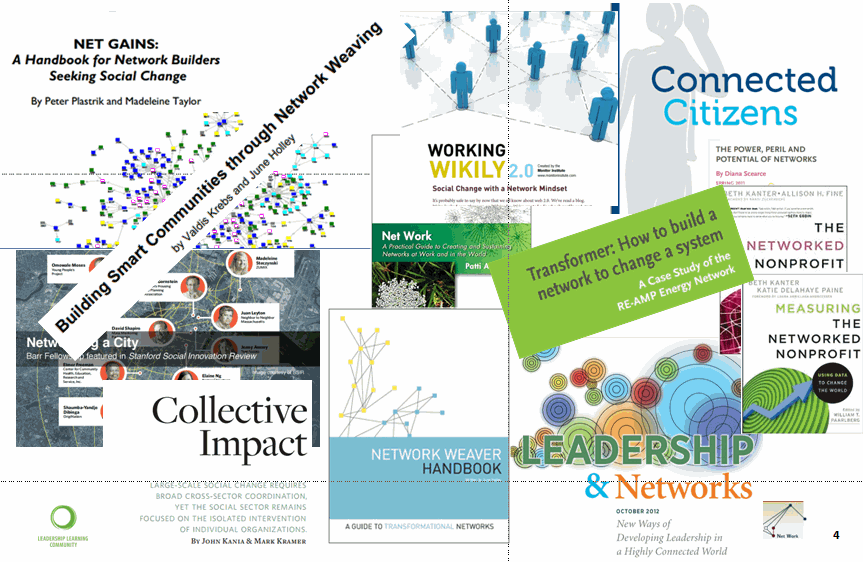 This is certainly not exhaustive, but it's a pretty good list. So I have published this list (with hyperlinks) as Net Work's NonProfit Reading List.
Two recent additions to the list (one made it into the graphic, the other not yet):
The LLC's recent publication, Leadership & Networks (October 2012) by Claire Reinelt and Deborah Meehan. I am a contributing co-author on this paper, along with some great collaborators. The report is intended for "those who run and fund leadership programs that develop and support leadership for social change." It highlights the importance of, and ways that, leaders in social change should be more network-aware and ways that programs can bring network literacy into their work.
I've also added an as-yet unpublished paper developed by Heather Creech and colleagues for IISD (especial thanks to co-author Michelle Laurie, for sharing this). I've been a fan of Heather's for some time as she has been working in the development world for many years offering insights into how networks can support sustainable development. This new publication, Performance improvement and assessment of collaboration: starting points for networks and communities of practice provides a very good breakdown of types of communities of practice and suggestions for ways to measure value created by each.
Which brings me back to the topic of the webinar: it is important to understand not just how network analysis can support nonprofits in designing and assessing networks and measuring the impact of the network, but also to understand the limitations. It's a topic of active inquiry for me — having been so immersed in SNA/ONA for so long, I am finding that it is important to be able to understand how network maps and metrics can be indicators of outcome. That's the new net work.