Change management has been on my mind a bit of late — especially since I was invited to participate in a panel on the topic in the knowledge management track at the SLA annual conference in San Diego last month. It was a panel of two; I was pleased to be able to re-connect with a former colleague from my work with MITRE, Ethel Salonen, who was my co-panelist.
I began delving into my file cabinet and came up with the following articles spanning 25 years: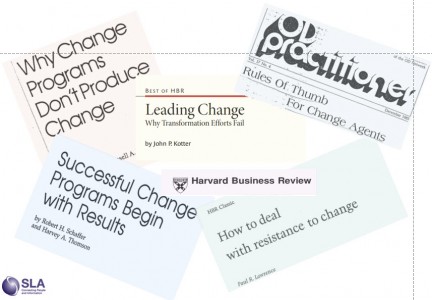 Both long-time veterans of corporate change programs, Ethel and I were able to provide two different perspectives:
Naturally, my part was about the network perspective (understanding the organization, finding the influencers via social network analysis). I included some insights that I have learned from working with nonprofits who develop logic models supporting their theories of change
Ethel gave a historical and theoretical perspective based on types of change giving examples from MITRE, wrapping her talk around three types of change (incremental, paradigmatic, and cataclysmic) from work by Roger Greer.
It was a fun, engaging session with lots of Q&A (SLA is a great audience). The fact is I hadn't originally intended to talk about change management and network analysis, and was planning to do a more KM-focused talk, but Ethel convinced me to give the network perspective, and that worked well.
What would have worked better is if I had seen the new HBR article, The Network Secrets of Great Change Agents a day or so before the talk. (It was not published until a week or so later, so I excuse myself.) (Also, hat tip to colleague Cai Kjaer at Optimice for posting a link in the SNAP Linked In Group.)
So, this article, by Julie Battilana and Tiziana Casciaro, identifies what the social networks of change agents should look like based on the type of change. The research base consisted of 68 change initiatives within the UK's National Health Service. Building on the network concepts of bridging ties versus bonding ties, which they've articulated as bridging and cohesive network patterns, they found that:
For divergent change, that is, a change that requires "dramatic shifts in values and practices that have been taken for granted," a bridging network (or bridging network strategy) is more effective. I suspect that divergent here might correspond to some combination of paradigmatic and cataclysmic in the Greer model)
For nondivergent change, that "builds on rather than disrupts existing norms and practices," a cohesive (bonding) network or strategy is best
They also summarize the importance of looking at your personal network and seeing, within it, people who might be categorized as endorsers, fence-sitters, and resisters and the most effective strategies for working with people in each of these categories, again, based on how divergent the change is. The upshot? Focus on the fence-sitters, for either type of change. Deepening personal relationships with endorsers doesn't add much value, and resistors should be kept at arm's length. (Also on the change management front this past week: a new blog post from Maya Townsend on "Go Slow to Go Fast:" doing the careful work of talking to people before embarking on a change initiative. She doesn't use the word "network," but I believe she is talking about creating a solid network to support change.)
This is a good, quick, read that provides the kind of insight that I like to see from rigorous research. Next time I'm asked to give a talk on change management, I'll update the network perspective.